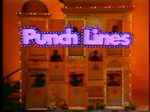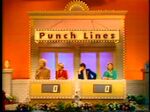 Taped
December 30, 1979 (for syndication)
Run time
30 Minutes
Host
Bill Cullen
Punch Lines was an unsold pilot as a revival of Bill Cullen's other popular game show Eye Guess.
Main Game
Edit
The game is played with two celebrity-civilian pairs, and eight so-called "window people" seated in a large apartment-like structure on the other side of the stage.
Each of the eight window people reads what is called a "punch line", an answer to an upcoming question. After all the punch lines have been read, the eight window people quickly change seats to confuse the contestants. Seven questions are read to the contestants, who have to identify the window where they heard the correct punch line, not who said it. Like Eye Guess, a team stays in control as long as they continue to give out correct answers. Every correct answer in Round 1 is worth 10 points, and correct answers in Round 2 are worth 20 points with the team that is behind taking control first. 100 points wins the game. Unfortunately, the way round two is played, this could allow a team trailing behind to give fewer correct answers than the other team did in Round 1 and win.
The endgame is identical to the first two rounds except with prizes added. Eight more punch lines are read and seven more questions are given by Bill. For every correct answer a contestant gives, he or she wins a prize. If all the correct answers are given, the contestant receives a new car.
Screencaps
Edit
Despite not making it to air, The show was sold in the U.K. and aired on ITV from 1981 until 1984 hosted by the late Lennie Bennett (of Lucky Ladders fame).
Another pilot was shot for an Australian adaptation of the show hosted by Jeremy Kewley for the Seven Network on August 8, 1986. However, like its American counterpart before it, the series also failed to sell later on.