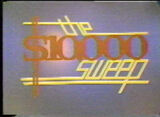 Taped
August 4, 1972
Run time
30 Minutes
Host
Jack Clark
Announcer
Don Pardo
Origination
ABC Studio 2, New York City, New York
The $10,000 Sweep was an unsold pilot.
Game Format
Edit
Two contestants in the middle saw an answer in their TV screens. Host Clark read a question in which its answer is a clue pertaining to the answer. The first player to ring-in with the correct clue, gave his/her partner a chance to guess the answer and if the partner is correct he/she scored points for the team. An incorrect clue from the ring-in player or an incorrect answer from the partner had Jack read the clue (sometimes a better phrasing of the clue), and gave the opposing partner a chance to guess the answer.
Point values increased by one point throughout the game with the first question worth five points. Each game also had three target numbers; hitting one of those target numbers on the nose gave the team a chance to answer the next question unopposed (all by themselves). The first team to reach 100 points wins the game.
Each game was worth $2,000 each for the championship team with the final game being worth $4,000. If the championship team lost any one game, not only their sweep ends, but their winnings were cut in half. If the championship team can win four games in a row, they win a check for a total of $10,000.
The recording date appears on the check shown during the intro.
While taped at ABC, the presence of longtime NBC employee Don Pardo as announcer suggests it was for that network.
Screencaps
Edit